サポート [Shanghai Shocktorm Ocean Engineering Company Limited] | CN Support

上海雄程海洋工程股份有限公司とは
上海雄程海洋工程股份有限公司是国内专业的海上技术服务企业之一。立足于海上桩基、海上运维等海工装备的研发,为跨海大桥、海上风电及海上石油等工程项目提供技术服务。
Shanghai Shocktorm Ocean Engineering Co., Ltd. is one of the professional offshore technical service enterprises in China. Based on the research and development of offshore equipments such as offshore pile foundations, offshore operations and maintenance, it provides technical services for projects such as cross-sea bridges, offshore wind power and offshore oil.
雄程海工是上海市高新技术企业、"专精特新"中小企业,同时是国家海洋局专项、上海市中小企业发展专项、临港智能制造专项、创新资金承担单位。
Shanghai Shocktorm Ocean engineering Co., Ltd. is a high-tech enterprise in Shanghai, a small and medium-sized enterprise with "specialized, Precised, characterized and new" character, concurrently a special project for the State Oceanic Administration, a small and medium-sized development project in Shanghai, an intelligence manufacturing project in Lingang, and an innovation fund commitment company.
IPO準備中です
雄程海工目前拥有一批技术先进的装备,包括桩基装备 :"雄程 1 号"、"雄程 2 号"及"雄程 3 号";运维装备:天胜系列、天威系列、天翼系列、天禧系列运维船及"雄程云桥",致力于成为海洋技术服务的领军企业,目前处于IPO 辅导阶段。
Shanghai Shocktorm Ocean engineering Co., Ltd. currently has a number of technologically advanced equipment, including pile foundation vessels: Xiong Cheng No. 1, Xiong Cheng No. 2 and Xiong Cheng No. 3 . Operation and maintenance vessels: such as Tiansheng series,Tianwei series, Tianyi series, Tianxi series as well as Xiongcheng Gangway, committed to becoming a leading company in marine technology services. The company is presently in the IPO counseling stage.
公司拥有一批专业的科技研发人员,目前已获得 50 余项知识产权,在所处细分领域内拥有重要影响力;已先后为国内 23 个大型海上风电项目,6 座跨海大桥项目提供桩基服务,包括国电普陀 6#、三峡庄河、中广核阳江、浙能嘉兴 1 号、克罗地亚佩列沙茨大桥、福建平潭公铁两用跨海大桥、舟山舟岱跨海大桥等国内外重大项目。
The company has a group of professional research and development staff for scientific and technology, which has obtained more than 50 intellectual property rights and has an important influence in its fields. It has provided Pile foundation services for 23 large-scale offshore wind power projects in China and 7 cross-sea bridge projects, including Guodian Putuo 6 #, Three Gorges Zhuanghe, CGNPC Yangjiang, Zheneng Jiaxing No.1, Croatia's Pellesacmost Bridge, Fujian Pingtan Highway-railway Cross-sea Bridge, Zhoushan Zhouyu Sea-cross Bridge, etc at home and abroad.
洋上風力発電はこの先もっと発展します
未来几年,公司将借助海上风电及一带一路建设带来的产业高潮,实现企业跨越式发展。
In the next few years, the company will take advantage of the industrial peak brought by offshore wind power and "one Belt and one Road" construction to achieve leapfrog development.

克罗地亚佩列沙茨现场雄程1号打桩船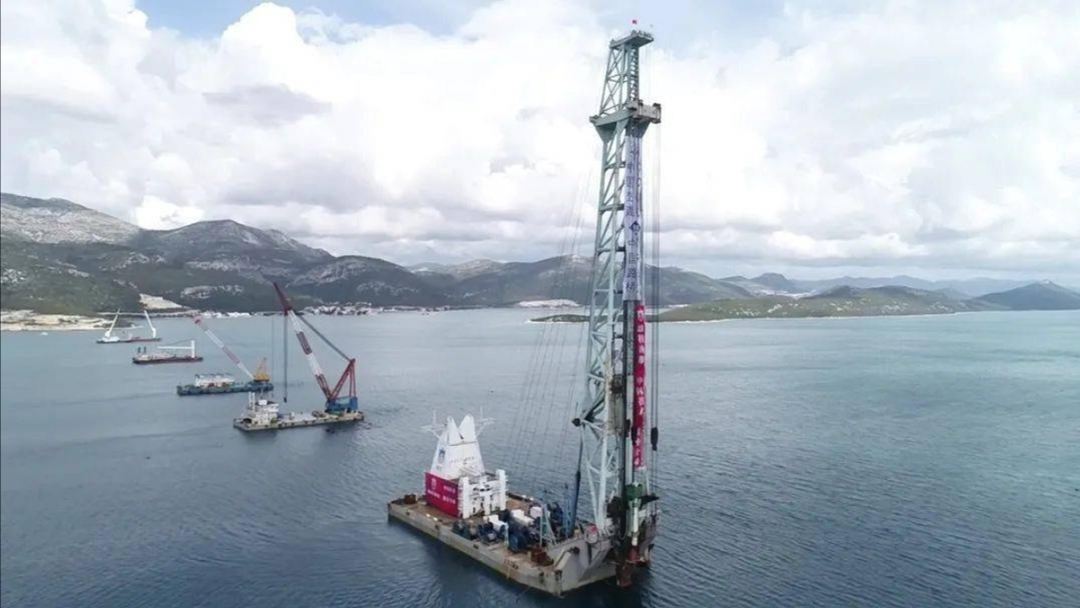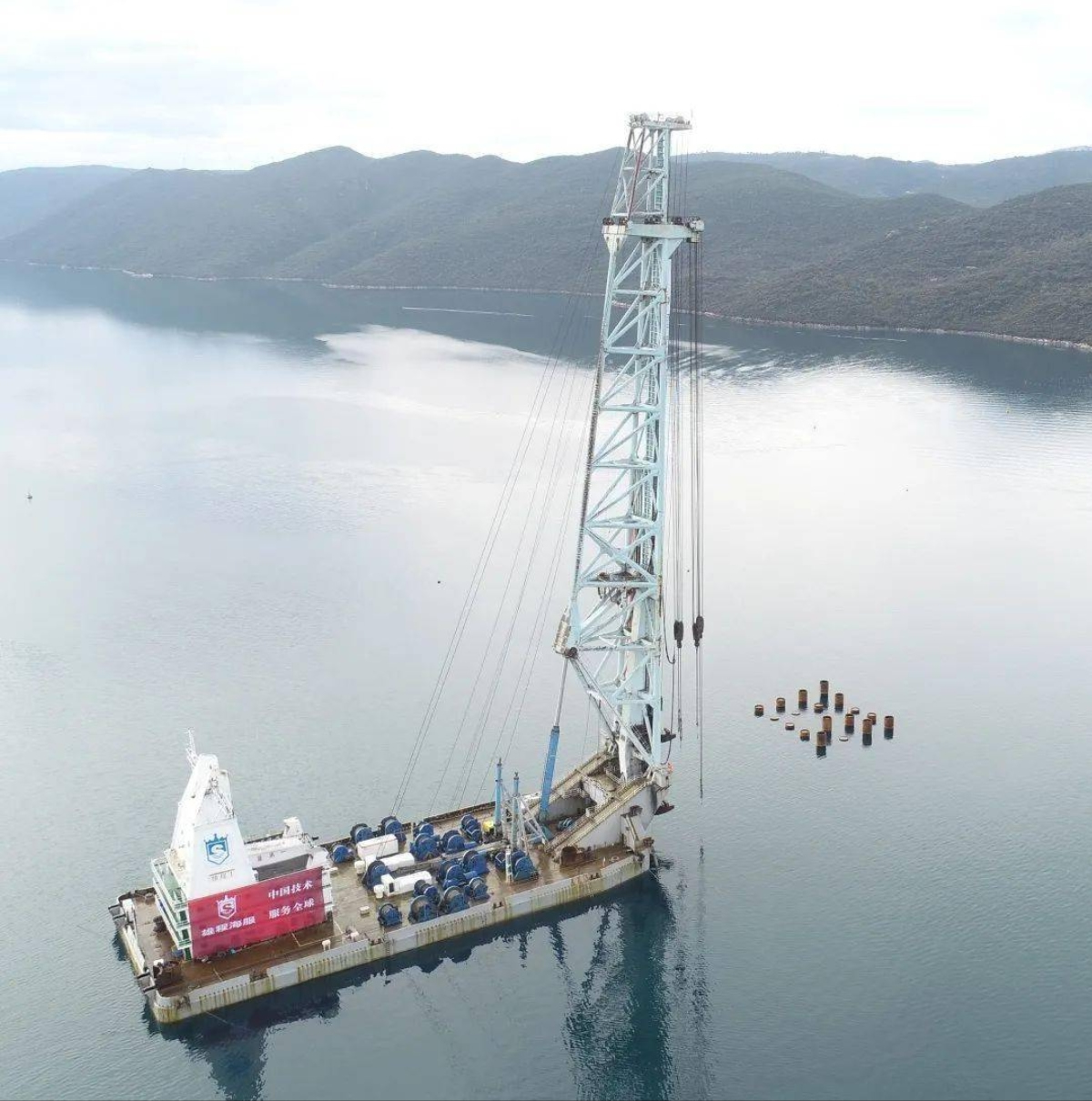 雄程天威1运维船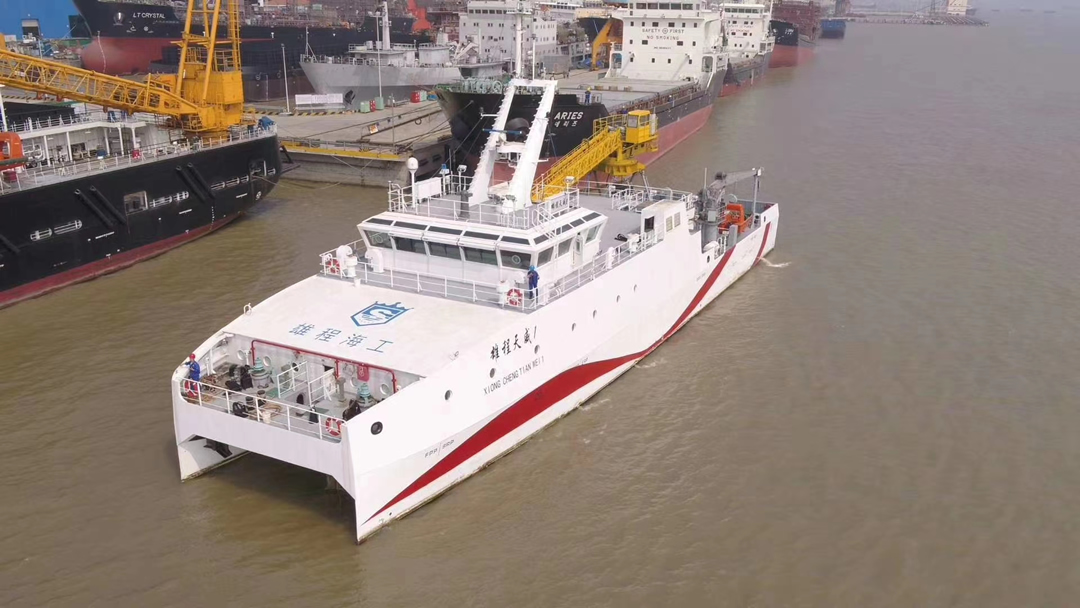 雄程天翼运维船
---
IPO準備書類(PDF)
IPO準備書類 2017年09月11日 光大証券調査報告書(PDF5ページ/278k)
IPO準備書類 2020年12月14日 中信証券調査報告書(PDF10ページ/719k)
---
その他資料
雄程海洋工程(今ココ)
---